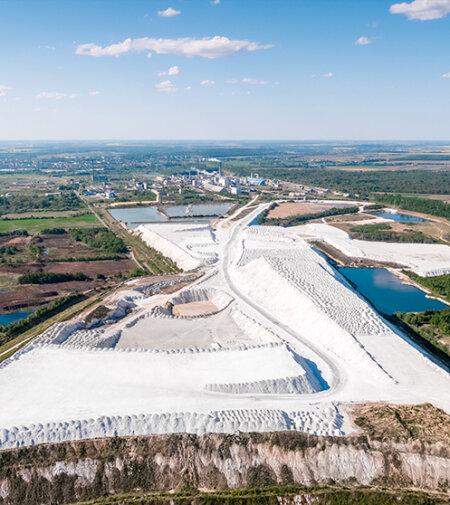 Production Waste Storage
Phosphogypsum substance, made during phosphoric acid production process, is completely safe for human health and the environment, technical gypsum with extremely low levels of phosphate impurities.
Phosphogypsum is stored in a modern and safe landfill near the plant.
Underneath and around the heap there is a fully waterproof shield of moraine clay. There is a canal around the heap where rainwater is collected from the hillsides. After that it is returned to the factory and reused.
Phosphogypsum is used worldwide as a fertilizer, as a building material for road construction and installation of storage sites, as well as for growing mushrooms.
However, technologies for the efficient use of this raw material are still under development and improvement. Thus, phosphogypsum is now being stored in a factory dump.
Phosphogypsum poses no danger to humans or the environment. There are vegetation and wildlife around the site. However, the phosphogypsum heap is located on the site of the plant, where heavy machinery is constantly employed. For this reason, the area is kept closed.