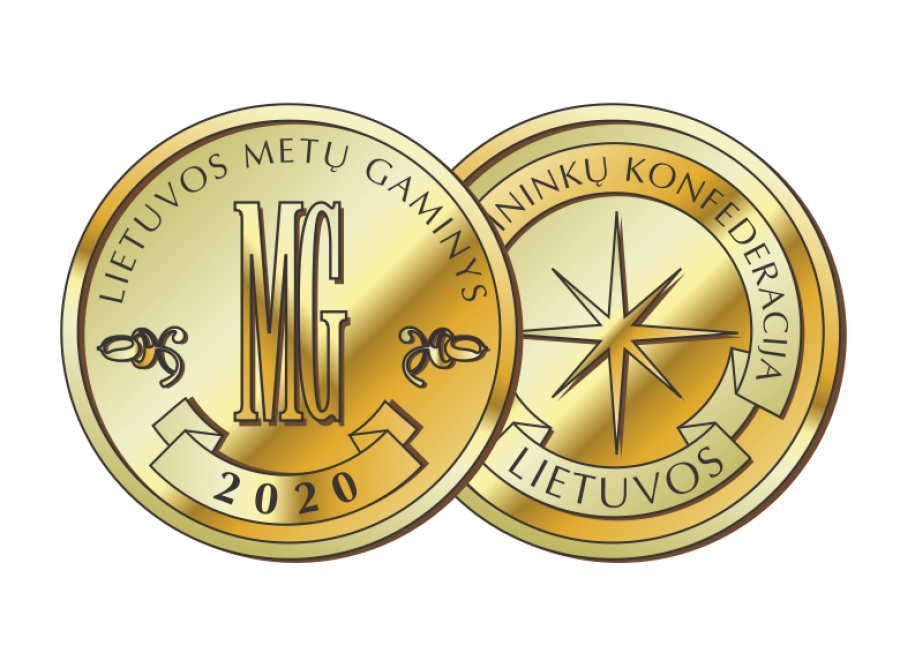 AB Lifosa wins gold medal in Lithuanian Product of the Year 2020 awards
2020 December 21
'This important award is a recognition of the innovative work that our entire team of professionals here, at AB Lifosa, has been doing. By continuously expanding our range with sustainable products of the highest quality appreciated by farmers around the globe, we are strengthening our position in the global market and are very proud that they have now been recognised by foreign and domestic experts alike,' says Jonas Dastikas, CEO of Lifosa AB.
According to him, AB Lifosa decided to start producing its compound mineral fertilisers enriched with sulphur because of the increasingly evident shortage of sulphur in crops in recent years, which is a key microelement in them. Lifosa's compound mineral fertilisers, NP(S) + B + Zn, are enriched with sulphur and microelements, namely boron and zinc. These are concentrated fertilisers in granular form, containing different proportions of nitrogen (N), total phosphates (P2O5), sulphated and elemental sulphur (S) as well as nutrient microelements.
They are suitable for fertilising all types of flowers, garden plants and field crops. Farmers using sulphur-enriched fertilisers see larger yields with healthier and taller crops and plants. Crops that are more sensitive to sulphur deficiency include oil-bearing crops (e.g. rapeseed and sunflowers), legumes (e.g. soybeans) and fodder (e.g. maize silage). Large quantities of sulphur are also needed in tea and cotton farms.
AB Lifosa has a capacity to produce 312,000 tonnes of NP(S)+B+Zn annually. Since its launch, the sulphur-enriched fertiliser went to eleven different countries including the US, Brasil, Ukraine, Spain, and China, with small quantities also being purchased by Lithuanian farmers.
The start of manufacturing this new compound mineral fertiliser enriched with sulphur and microelements was accompanied by the implementation of new technology – a highly important advance from the company's point of view. This June, in cooperation with Denmark's PanPac Engineering, AB Lifosa implemented and put into operation a fully automated big bag filling system. The new fertilisers are packaged into 1 and 0.5 tonnes big bags. This packaging line has the capacity to fill 120 0.5-tonne big bags or 100 1-tonne big bags per hour. This is the first such system to be implemented in a plant where all packaging is done by a robot. The new, fully automated big bag filling system allows a six-fold increase of the plant's packaging capacity.
This is not the first time Lifosa receives a gold medal from the Lithuanian Confederation of Industrialists. The Lithuanian Product of the Year award had also been given to its diammonium phosphate, monocalcium phosphate, as well as the crystalline water-soluble fertilisers, monoammonium phosphate and urea phosphate.
The key objective of the Lithuanian Product of the Year competition is to enhance the competitiveness of Lithuanian products and present the country's industry outputs, goods and services in domestic and foreign markets by encouraging consumers to choose quality products from Lithuania, thereby fostering the growth of Lithuanian businesses. A total of 76 companies in 15 categories from Lithuania's 24 sectors of industry were nominated for the title this year.
Back